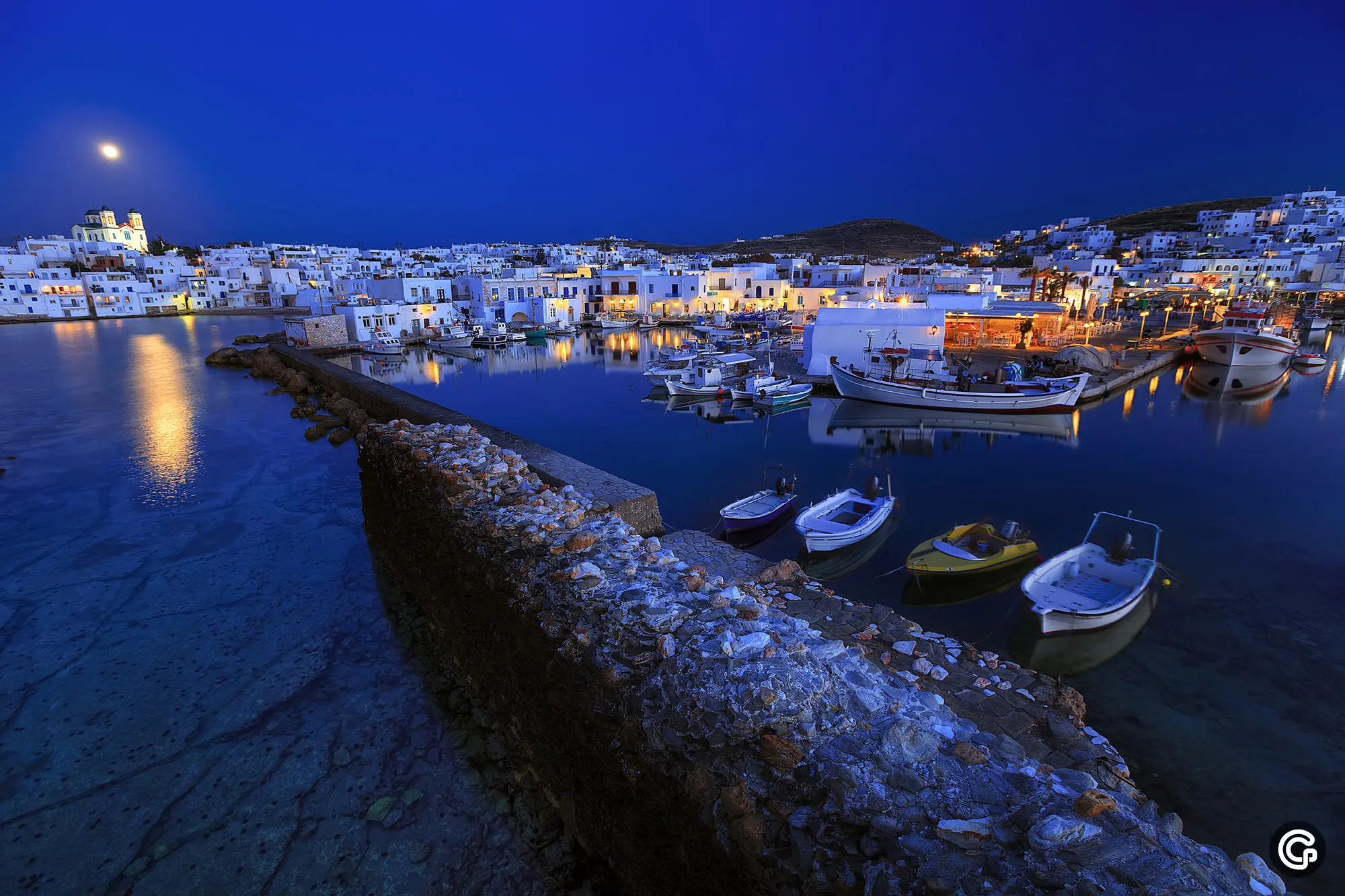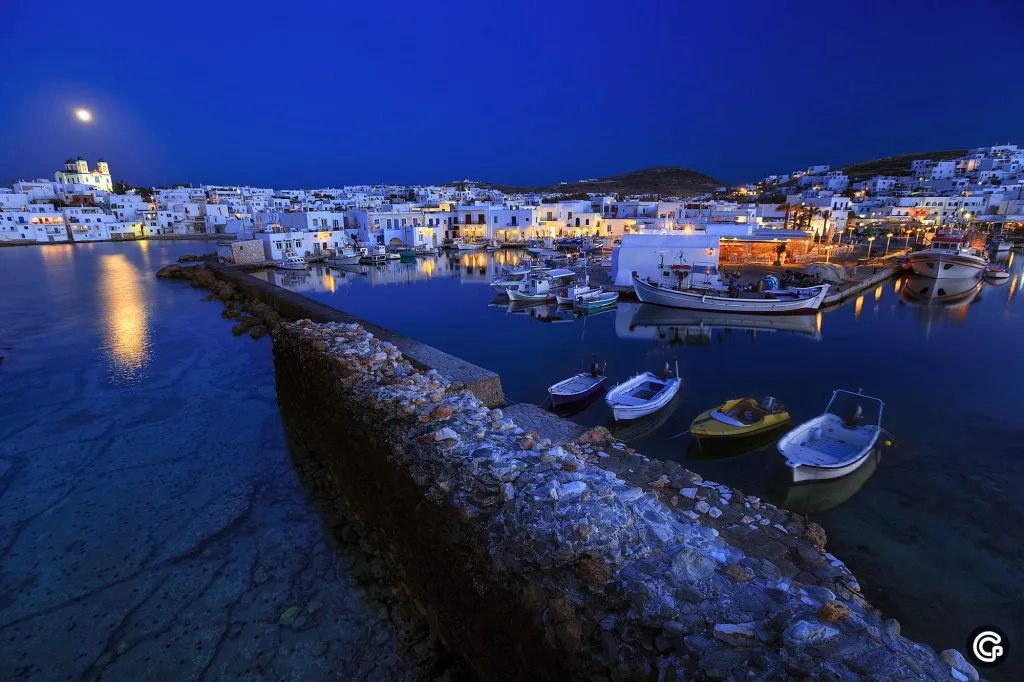 Car Hire Naoussa Paros – The Best Way To Explore The Beautiful Paros Coastline
Naoussa Paros: The beautiful picturesque fishing village of Naoussa is located in a huge bay in the northern part of Paros, 10 kilometers east from the capital, Parikia.
Naoussa is considered to be one of the prettiest villages in the Cyclades and, despite the tourism development, this lovely village has managed to keep its authenticity, its traditional character and its charm, with its whitewashed and flowered little houses and its tiny whitewashed churches and chapels, surrounded by labyrinth-like narrow, stone-paved streets.
The lovely village of Naoussa is built amphitheatrically around a tiny picturesque port where little colorful fishing boats called caiques moor and remains of a Venetian castle can still be seen, creating a unique and enchanting atmosphere.
Chaniotis Paros Car Rentals can help you discover the very best of Naoussa and surroundings.
We offer many additional services and amenities including child seats, roof racks and a comprehensive map of the island offered absolutely free of charge, we're simply the best choice for Car Hire Naoussa Paros.
When is the best time to visit Paros?
A city so steeped in history and natural beauty means that there is never a bad time to visit Naoussa. But locals know that mid-May is a particularly beautiful time to visit. After April's heavy rainfall, May sees the area come alive with lush greenery and wildflowers which makes traveling by car a wonderful scenic experience. With average temperatures ranging from 17 -27 degrees Celsius, this time of year offers ideal sightseeing weather.
WHY BOOK A RENT A CAR IN Naoussa WITH US?
Car Replacement in case of the unfortunate event of an accident, your car will be replaced will another same or bigger size.
Delivery & Collection of vehicles in Naoussa Area – We can deliver/collect vehicles in all supported locations in our booking engine, including Kolibithres-Monastiri Santamaria -Ampellas and selected hotels and villas. For places not included in our booking engine, you may contact us in advance.
Trust a Local Car rental company in Paros like us – Know exactly what you pay, before you pay! With our strict All-inclusive policy, you know our fair price from the first step of the booking process. Read more about our rental policy
Visiting Naoussa in May and early June also means you avoid the peak tourist season which can make for a more relaxing holiday experience. And with the convenience of a hire car, Paro's hidden gems are easily accessible. Create an itinerary that takes in popular tourist attractions along with day trips to undiscovered places that are only ever found when you're free to explore.
Every 23rd of August, nine days after the Assumption of the Virgin, a great festivity is celebrated in Naoussa, during which a representation of the pirate's raids is performed by the young people of the village, fireworks are thrown while dancing, eating and drinking continues until dawn. Many archaeological sites and monuments can be found in the area which is well worth visiting.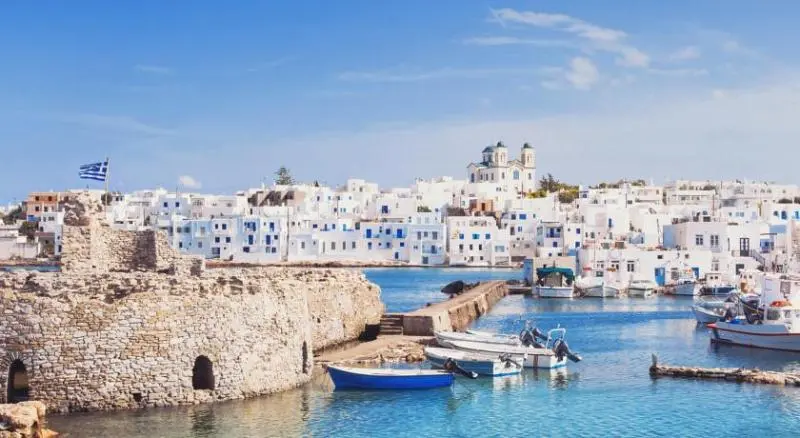 Do I really need a hire car? Naoussa by car
There really is nothing like the freedom of having your own transport when you travel. It's the best way to set your own itinerary and explore places off the beaten path where public transport simply does not go. Immerse yourself in the unique local culture with a hire car. Naoussa boasts many scenic routes for you to enjoy.
Conveniently located in Naoussa Downtown, Chaniotis Paros Rentals® offers a great selection of vehicles from economy to luxury. No matter your budget, our extensive fleet of high-quality cars has been chosen to make car rental in Paros affordable and hassle-free. And for further peace of mind, premium insurance is always included. Browse our fleet now.
Visit the smaller villages and soak up the Naoussa lifestyle. There's simply so much to see and when you're in the driver's seat, the options are limitless.
Driving Tips in Naoussa
Of course, driving in a foreign country comes with its own set of challenges so read our handy tips to help acquaint you with local driving conditions.
In Paros, we drive on the right side of the road and cars coming from this side have the right of way.
The narrow, well-worn roads add to the rustic charm of the island but require extra care when navigating in your car rental. Paro's roads are known to be very slippery, even in dry weather, and can be subject to potholes. Always drive defensively and allow additional stopping time to avoid accidents.
The speed limit is 50 km/h (30 mph) in built-up areas and 90 km/h (56 mph) on the highways.
Watch out for pedestrians and animals.
It is customary to drive on the hard shoulder to allow cars behind you to overtake. Solid white lines are often ignored and drivers may flash their lights to indicate they want to get past. It's courtesy to allow them to do so.
There are tightly winding hairpin roads as you travel through the stunning mountainous regions of Paros. Extra care is required here as road signs don't always give a good indication of sharp turns that may be ahead.
Refueling your hire car is a simple process and often includes a full service which means you don't even have to leave your car. However, be aware that many fuel stations will require cash payments and most will close by 10 pm so be sure to fill up earlier in the day wherever possible.
Is driving in Paros easy? Read more on our blog
CAR HIRE LOCATION IN Naoussa DOWNTOWN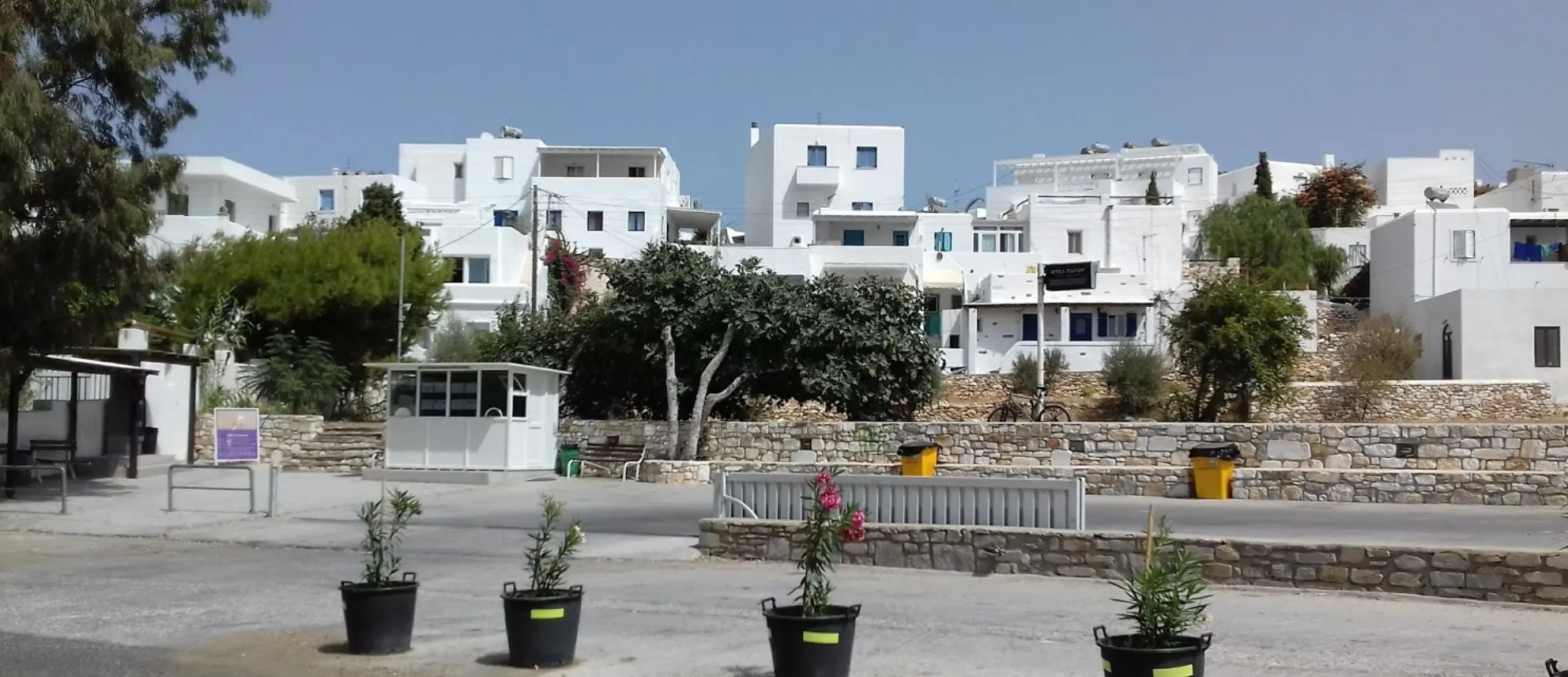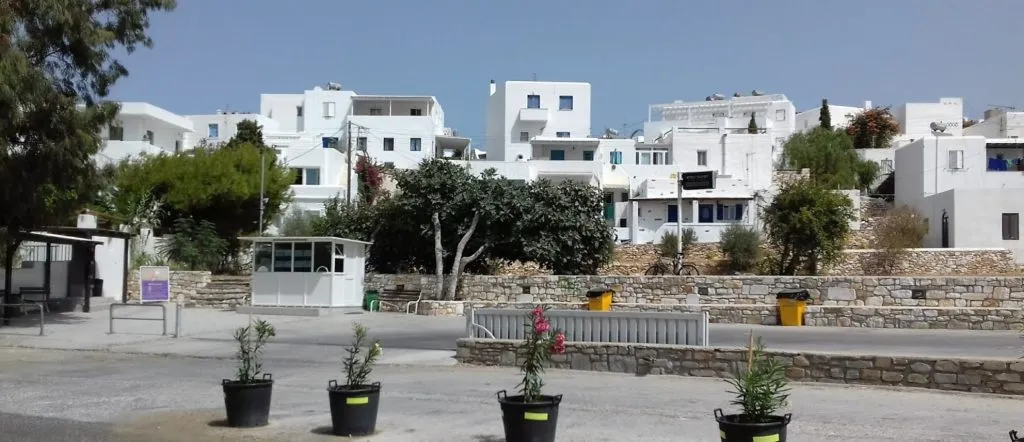 Chaniotis Paros Rentals® – Car Hire – Paros Naousa
 Naouusa Paros, 84401, Paros, Greece
 +30 693 4215 919
Chaniotis Paros Rentals  Car -Moto -ATV Transfers
Address: Naoussa Bus Stop, Paros,  84401, Greece
MEET AND GREET
Call Center:  +30 693 421 5191
Email: [email protected]
Hours of Operation: Mon. – Sun. 09:00 – 20:00 *
* A prior booking is required
---
Car Hire Naoussa Paros
Other Nearby Locations:
 Paros Airport 22.5 kilometers away
 Parikia Port 12.0 kilometers away
FAQS ABOUT RENT A CAR IN Naoussa
How much does it cost to Car Hire Naoussa Paros?
On average, renting a car in Paros costs €30 per day.
Which car sells out faster in Naoussa?
Group B. Compact (Nissan Micra or similar) is the group that sells out faster in PAROS.
What are your driver's license requirements for renting in Paros -Greece?
All drivers must produce a valid driving license. Non-EU license holders are required to have an international driving permit if the license is not in English.
Are there any extra charges?
No, we have a strict all-inclusive policy, so, you should not expect any hidden or extra charges.
NAOUSSA-PAROS THINGS TO DO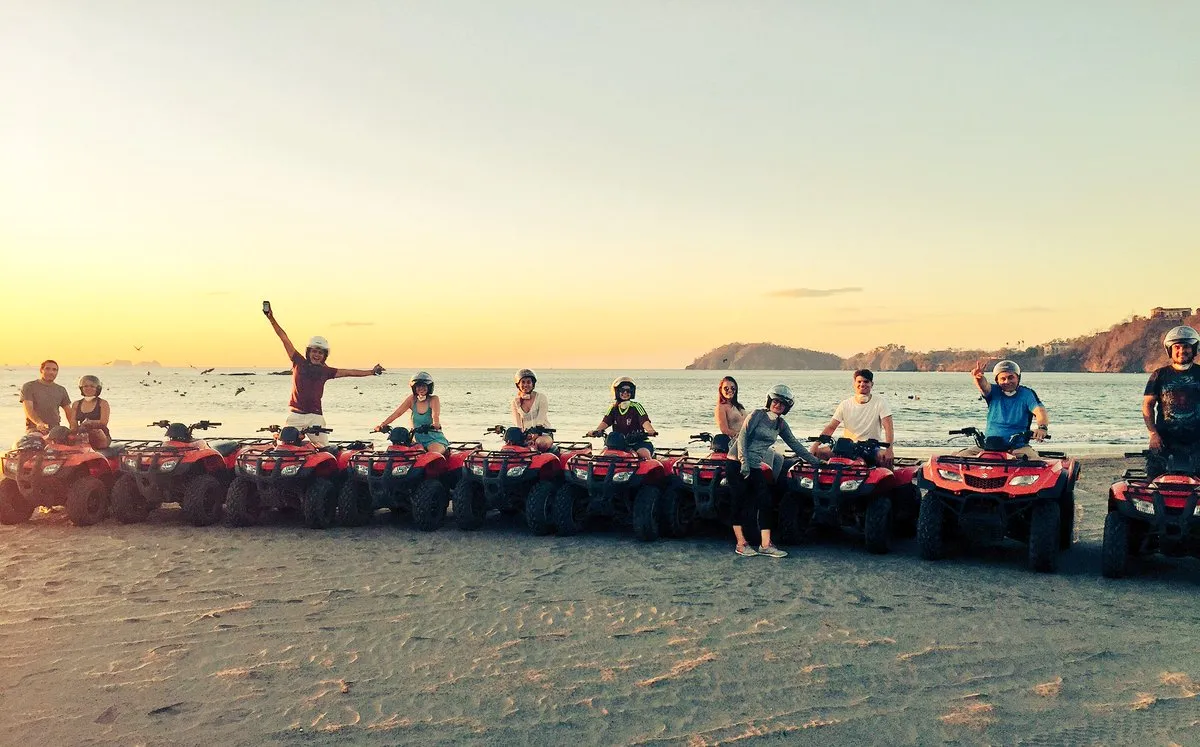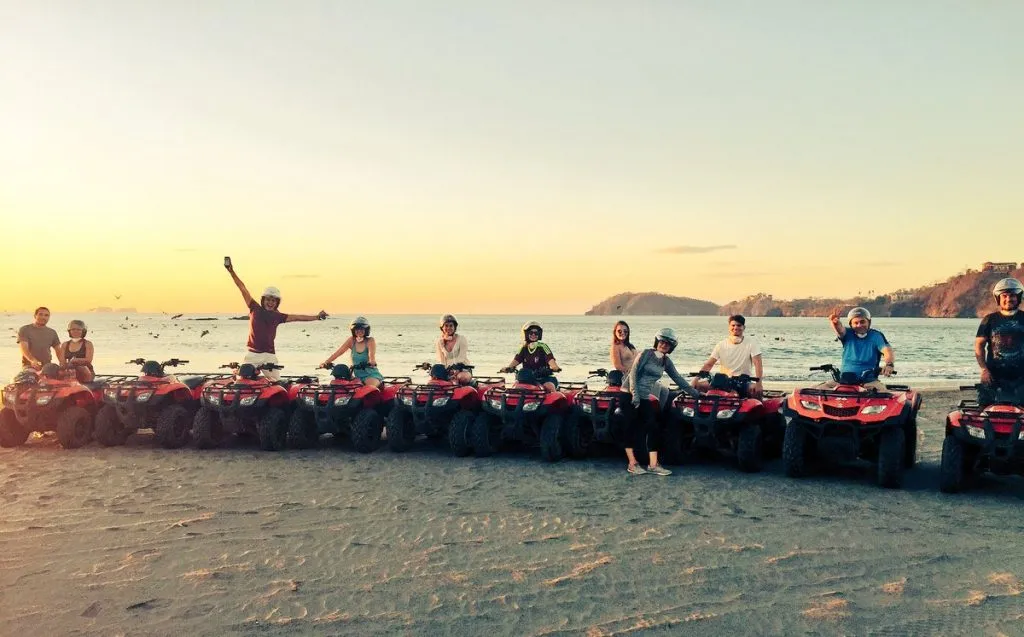 Top Attractions Naoussa
The Venetian Fortress of Naoussa in Paros Greece, Cyclades:
 The Venetian Fort of Naoussa is located in the old port and it is the most characteristic spot of this lovely town. Originally constructed in the 15th century by the Venetians, the fortress was used as a watchtower for pirate and enemy attacks and as a front line in times of war. Its location was very convenient for surveilling the Aegean Sea and due to its architecture, it was very difficult for enemy ships to approach the close port where commercial ships used to moor.
Today only part of this fort survives a half-submerged watchtower that is connected to the mainland with a short path. Originally there was a second watchtower that no longer survives. These towers had a large iron gate that made commercial transactions easier. Just opposite the port of Naoussa, there are today lovely bars and fish taverns. In the past, on the location of these bars, there were Venetian storehouses. After the Venetians, the fort was conquered by Russians and finally by Ottomans.
The Museum of Byzantine Art in Naoussa, Paros:
The Byzantine Museum of Paros is located at the village of Naoussa, right behind the church of Ekatontapiliani. In this museum, extraordinary artworks are on display from the prehistoric and Roman times and constitute a significant part of the history in the Cyclades islands. Most of the objects of art appear smooth, rigid and like being suspended. The eyes are always large. The backgrounds are most of the time painted golden. The style of Byzantine art was clear and simple.
The museum is housed inside the renovated monastery of Agios Athanasios, in the western part of Naoussa in Paros. The church hosts some breathtaking frescoes and paintings. Entering the yard, you will see several architectural parts from different sides of the ancient town, statues and other findings. Skillful craftsmanship in woodwork, Roman sculptures and icons painted by the local artists are also available at the museum.
Wine Museum in Naoussa, Paros: The beautiful town of Naoussa is home to the Paros Moraitis Wine Museum, one of the most interesting places one should definitely visit. This newly built museum is located strategically at the hub of this fishing town displaying a vast collection of wines made by local producers. The museum was founded in 1910 and has since passed from generation to generation. The renovated premises that house the winery since 2001 include the winemaking center, production, and storage areas while at the old winery building visitors can see the underground aging cellars, the wine museum, and the wine tasting hall.
The vision of Manolis Moraitis, a third-generation winemaker is to preserve the authentic character and quality of the local vineyards. It is worth noting that the historical Parian vineyards have roots in the Cycladic era (3,200-2,000 BC). Moraitis wines are characterized by their freshness and their great aromatic concentration.
Moraitis winery owns a huge area of organic vineyards in the most fertile areas of the island, featuring a wide variety of Greek wines such as Assyrtiko, Malagouzia, Vaftra, and Mandilaria. Today, the average production of the famous winery reaches 300,000 bottles a year and more than 30% is exported to USA, Canada, England, German, Italy, and Cyprus. The museum's collection offers an overview of the Parian wine-making history and tradition as well as interesting insights on the different types of equipment used in the manufacture and other agricultural tools for the vine growing population.
Paros Agios Antonios Church:
Located in Naoussa of Paros, lies one such significant structure, the beautiful church of Agios Antonios. Its proximity to the harbor is another factor that makes this small church easily accessible. Built-in traditional Cycladic style architecture, this whitewashed building retains the true charm of Greece. It is built near the fishing harbor, as it is believed to be the protector of all the fishing boats.
This quaint church is held with much reverence by the local people and the 17th of January every year is celebrated as the name day of Agios Antonios with great enthusiasm and aplomb. Celebrations also take place in the monastery of Agios Antonios on Kephalos hill. Locals sincerely believe that the church of Agios Antonios watches over them every time they go into the sea to fish.
Naoussa also has many beautiful churches to visit such as the main church, the Church of the Assumption of the Virgin, which is located on the highest spot of the village or the Church of Agios Nikolaos (Saint Nicholas) which houses an interesting Byzantine Museum exposing fine and valuable 13th century icons.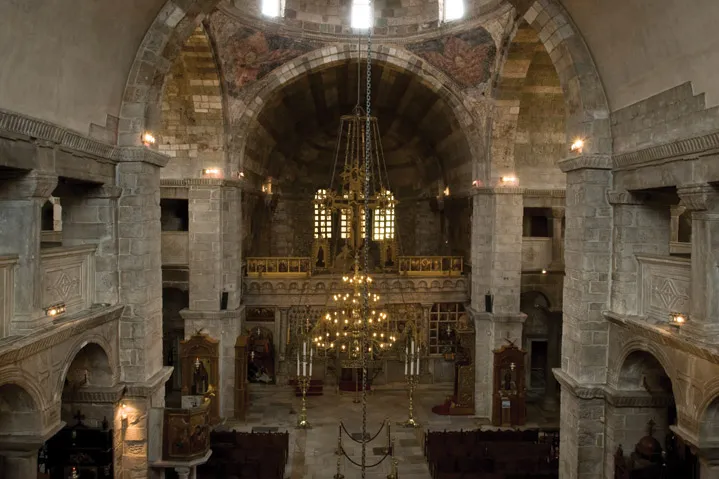 Best Beaches in Naoussa
Naoussa, Paros is also famous for its numerous beautiful golden beaches, filling the natural bay such as Kolymbithres Beach, Agios Ioannis, Agioi Anargyroi, Monastiri and many more. From the wildest and more secluded beaches to the fully organized ones, those beaches are ideal for everyone, covering all tastes and needs. All of them can be reached by footpaths, asphalted roads or by caiques (small fishing boats) from the port.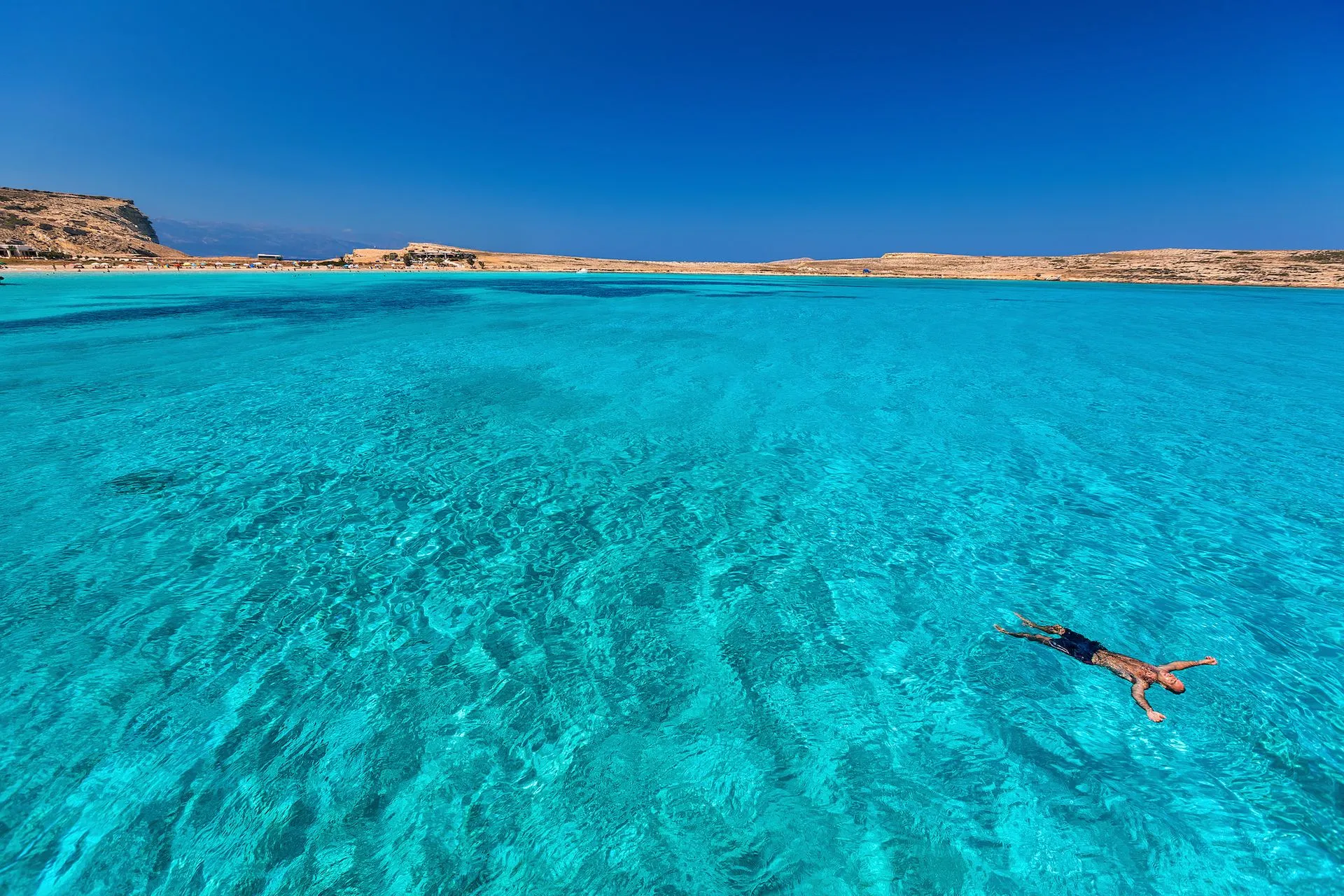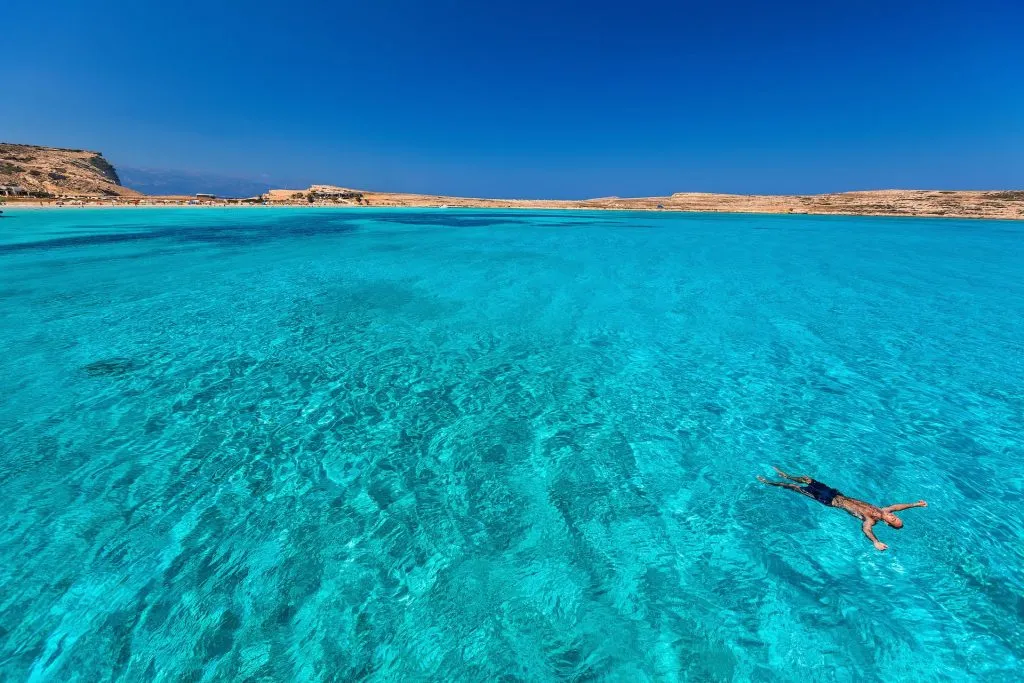 Kolybithres beach paros – crystal clear water, golden sand and a seabed tinted with the glorious pink hue of seashells, it's easy to see why this beautifully exotic beach is so popular. With gently rippling, lagoon-like water that laps at your ankles, this is a fabulous choice for families. 75 km from Chania, take a day trip in your hire car and go at your own pace.
Monastiri – only 10 minutes from the center of Naoussa, this beach is a favorite with locals. Enjoy the warm water, free sunbeds and variety of water sports on offer.
Santa Maria – a firm family favorite with a kids' playground and amenities, this beach is very close to Chania and is accessible in your hire car.
Ag Anargiroi –
Lageri – a visit to the turquoise paradise is something you will never forget. Featuring a wild, natural beauty with clear, lagoon-like water, white sand and surrounded by rocky formations, it's no wonder this is one of the most photographed beaches in Crete. The water is shallow and very warm but the crowds can be intense. Try early morning to enjoy a more peaceful visit.
Where to Eat in Naoussa
Little taverns and ouzeries are boarding the port, giving a friendly and traditional atmosphere. The main square offers much you will require in terms of buses, cash withdrawal and there is an information booth in the corner of the square. Though Naoussa is much quieter than Parikia, it offers several animated bars and nightclubs, opened until dawn.
Greek food is some of the most delicious cuisine in the world. Think exquisitely fresh seafood, wonderfully marinated meats, olives, cheeses, salads and simply the most flavourful olive oil. And then there's the baklava & loukouma.
BARBAROSSA – Barbarossa Restaurant is located in the picturesque little port of Naoussa Paros. With a long tradition of serving tasty Greek food since the 60s, this restaurant has become a popular eatery among locals and tourists..


SOSO– Located in a quiet cobblestone alley in the picturesque port of Naoussa, Soso prepares high-quality Greek fusion dishes, that have made it a really popular destination. During the long Greek summers, the tables are placed outside in the alley (a practice followed by almost all local restaurants), creating a romantic atmosphere.


Sigi Ihthios – The Silence of the Fish ("Sigi Ihthios" in Greek) is a beautiful restaurant located on a cobblestone promenade along the quaint harbor of Naoussa, where tiny fishing vessels are moored.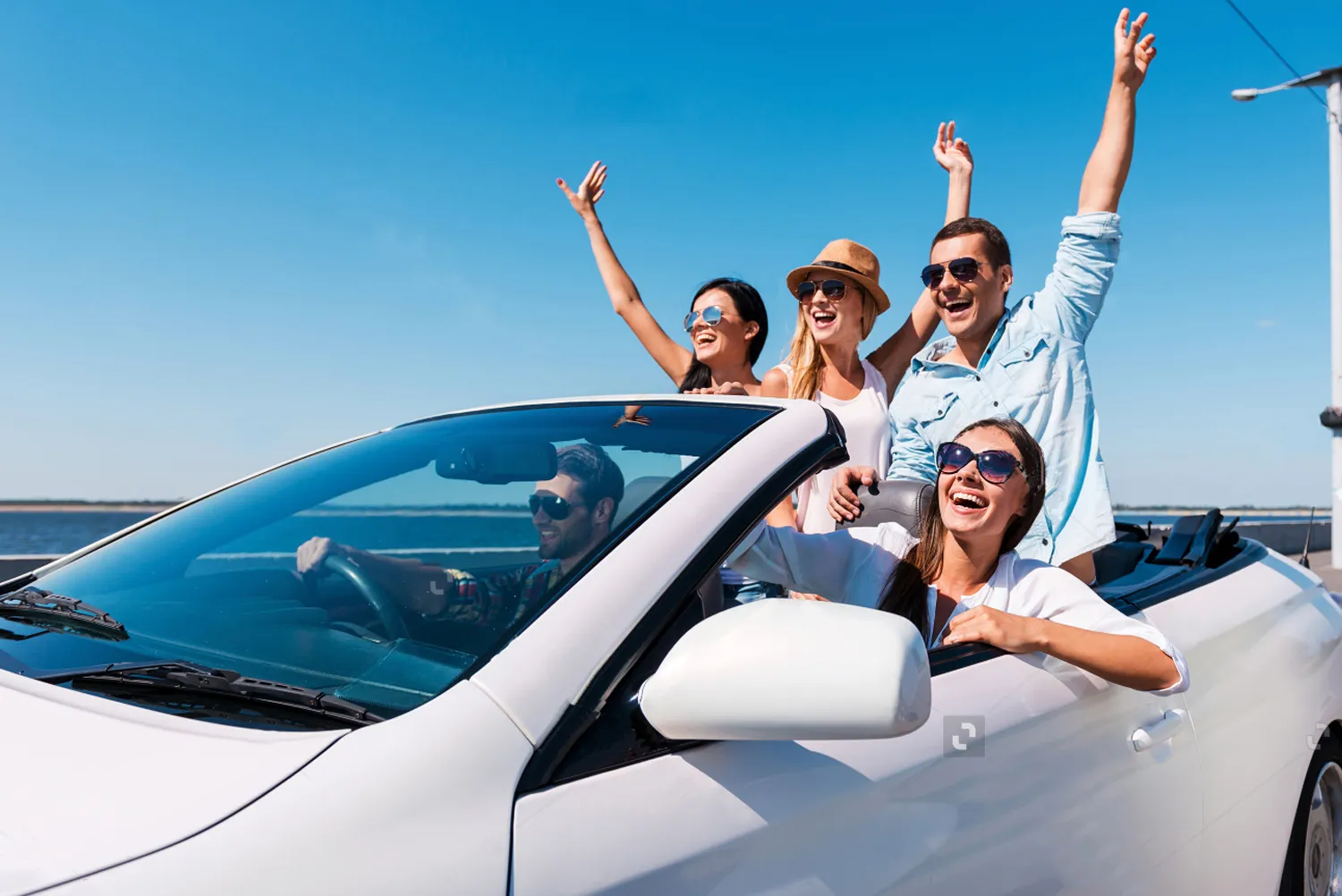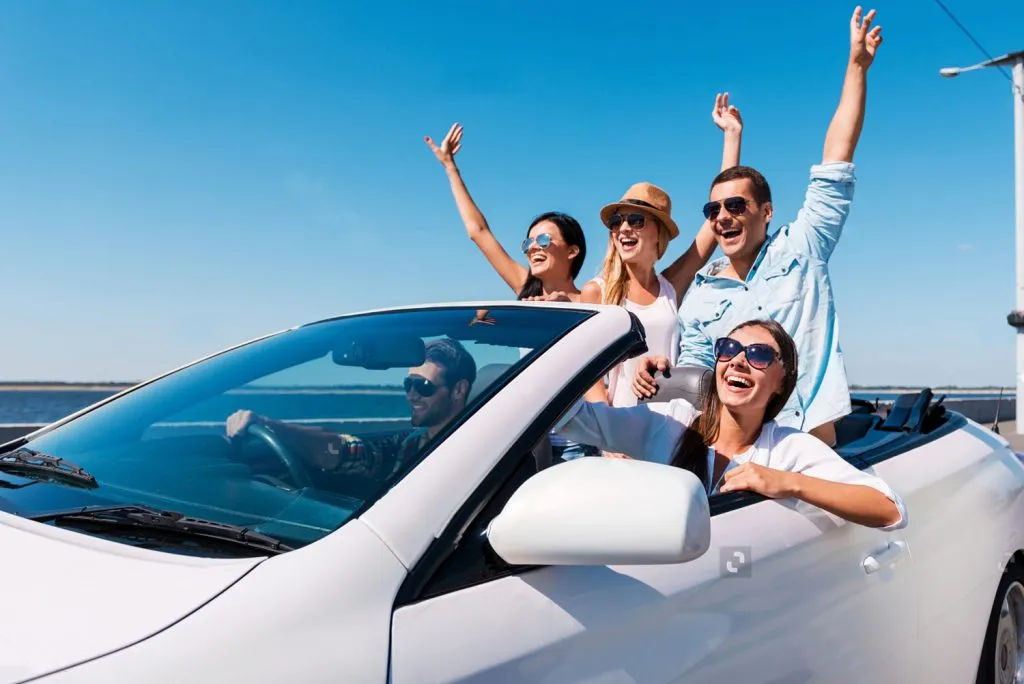 Where to Dance in Naoussa
Linardo Bar is located in Naoussa, this picturesque little town of Paros famous for its vivid clubbing scene. It is a beautiful club that sits right on the old Venetian harbor.
Housed in an old elegant building, the club has a wonderful ambiance and the views to the fishing port and the waters create a feeling of floating on the sea. The fun is nonstop and the dance music goes on until sunrise.
Agosta Bar is a vibrant spot, where you can enjoy the buzzing nightlife of Naoussa. This waterfront bar is an ideal place to discover Paros by night and enjoy the majestic sunset or a night under the stars.
Top-notch DJs, decadent cocktails and a mesmerizing view of the Old Port create a unique atmosphere. Keeping its Cycladic character, Agosta' style and decoration are inspired by the underwater world, while its large yard is considered to be the most cosmopolitan ones.