Logaras Beach is one of the most popular beaches and tourist resorts in Paros. This long sandy beach attracts thousands of visitors every year thanks to its exotic atmosphere and its crystal-clear waters, ideal for swimming and snorkelling.
Read here everything you should know before visiting this beautiful beach on the Cycladic Island.
Where is located Logaras Beach?
Logaras Beach is located on the southern side of Paros, 18 km from the capital of the island, Paroikia, and 12 km from Naoussa.
In a very close distance is the small village of Piso Livadi, which is the departure point of boats for daily cruises to Naxos and Small Cyclades.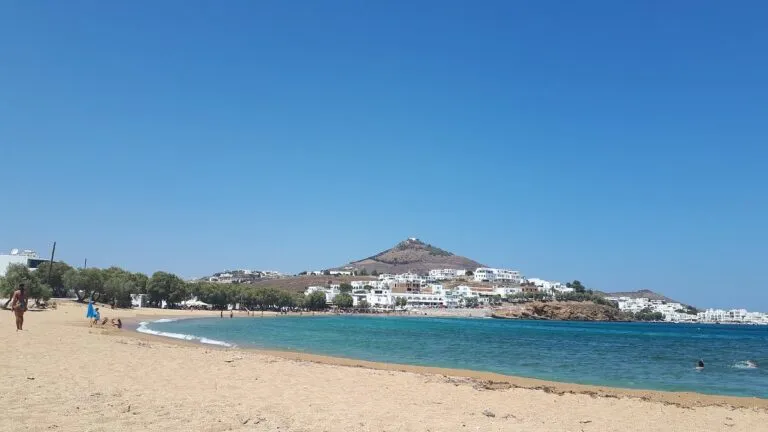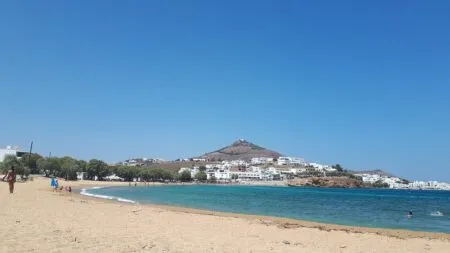 How to get to Logaras Beach in Paros?
You can go to Logaras Beach by bus from Paroikia. However, keep in mind that during the high season (July and August) the bus gets very crowded and you may not find a seat at peak hours. You can also go on foot from Piso Livadi (5-10 minutes walk).
The other option is to rent a car or ATV and explore the wider area. Renting a car in Paros is affordable and gives you the opportunity to visit many more beaches and villages easily and conveniently.
Thus, you can do the ultimate beach hopping and discover the hidden gems of the island.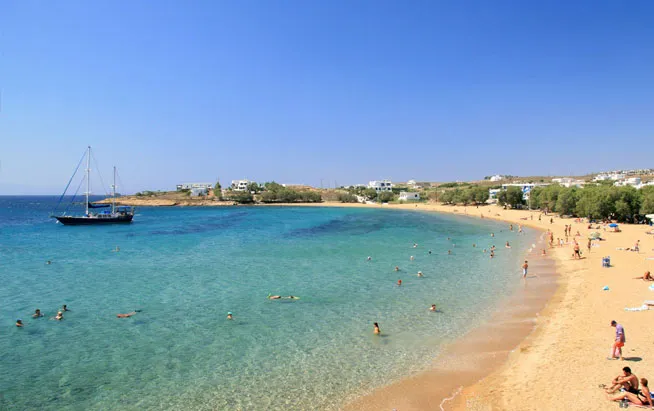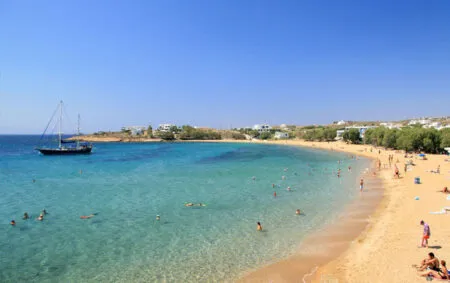 What to do in Logaras: Activities and facilities
Logaras Beach is partly organized. It has umbrellas, sunbeds, beach bars and water-sports facilities.
Thus, you can relax or swim, fish, do sports, kite-surf or wind-surf. As the water deepens gradually and the beach has lifeguard, it is ideal to spend your day with your kids.
For children-free travellers, there are also many options. As the beach is very long, you can spend your day having fun at the beach bars, where you will understand why everybody talks about the vivid life of Paros.
As the beach is partly organized, there is plenty of space to lie without umbrella or sunbed for free.
The part of the beaches that is unorganized is a perfect opportunity to live the calm and peaceful experience that Paros can offer you. There is shade under the trees on the coastline, but you should occupy your place early in the morning.
The wide area of Logaras has many accommodation options, such as hotels, guesthouses, rooms to let and villas. There are also many restaurants and Greek taverns to taste the local cuisine.
Things to do nearby
In a close distance to Logaras are situated Punda and Kalogeros, two of the best-known beaches in Paros. The traditional village of Marpissa, which is built amphitheatrically and mirrors the virgin beauty of Paros, is also nearby. 
Thus, we recommend you explore by car everything Paros has to offer you, popular places as well as hidden gems around the beautiful nature of the island.
Want to easily and conveniently discover Logaras Beach and its surrounding places in Paros? Rent a car with Paros Rentals!