Marchello is one of the best-known beaches in Paros, especially among youngsters. This beautiful sandy bay with azure waters has an amazing view of Paroikia and combines tranquillity with the vivid life of the island.
Let's see what you should know before visiting Marchello Beach.
Where is located Marchello Beach?
Marchello Beach is located in the bay of Paroikia, 4 km from the capital of the island. Its location is on the opposite site of the town, overlooking thus its whitewashed houses and the boat arriving at Paros' main port.
How to get to Marchello Beach in Paros?
You can go to Marchello Beach on foot (30-40 minutes walk) or by boat, departing from the port of Paroikia every half hour. However, keep in mind that public transportation in Paros may be crowded during the high season (July and August).
If your stay is at Naoussa or another village of Paros, we recommend you renting a car or ATV to get conveniently to the beach. Renting a car in Paros is affordable and gives you the opportunity to discover the island at your own pace, visiting many beaches and villages and exploring the hidden gems of Paros.
Marchello Beach is located near the beach of Krios, so by car you can easily visit both beaches. Krios hosts the camping of Paros and it is full of students and young travellers.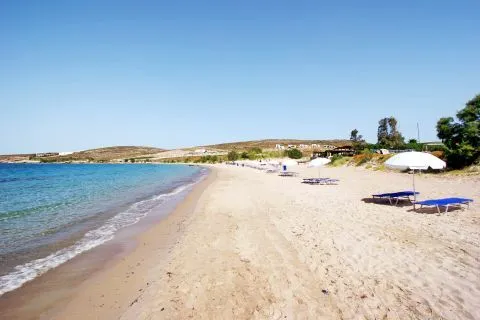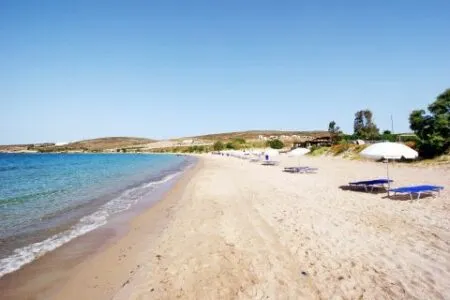 What to do in Marchello: Activities and facilities
Marchello Beach is partly organized. It has umbrellas, sunbeds, beach volleyball court, beach bars and water-sports facilities. Thus, you can relax or swim, fish, do sports, kite-surf or wind-surf. The beach is famous for the young people that visit it, so the beach bars on the coastline are vivid and you can spend your whole day there having fun.
As the beach is partly organized, there is plenty of space to lie without umbrella or sunbed for free. But you should be careful during summer, as without an umbrella the danger for heat- or sun-stroke is high. The part of the beaches that is unorganized is a perfect opportunity to live the calm and peaceful experience that Paros can offer you.
The wide area of Marchello has many accommodation options, such as hotels, guesthouses and rooms to let. Plus, you can stay at the camping of Paros, which is located in the nearby beach of Krios. There are of course many accommodation options in Paroikia, but also in Krotiri, which situated in a close distance. In Paroikia, Marchello and Krotiri you can find many restaurants and Greek taverns to taste the delicious local cuisine.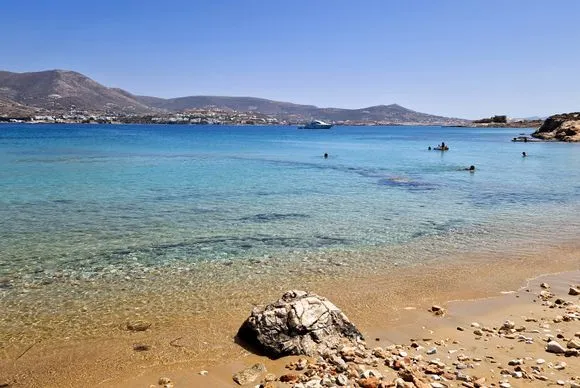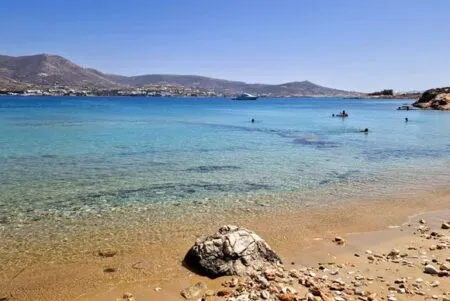 Things to do nearby
In a close distance to Marchello Beach is located not only Krios but also Livadia Beach, a sandy beach on the opposite site of Paroikia. Agios Fokas Cape with is magnificent view of Aegean Sea is also another place worth visiting by car.
Want to easily and conveniently discover Marchello Beach and its surrounding places in Paros? Rent a car with Paros Rentals!