Golden Beach (Chrissi Akti in Greek) is exactly what you understand from its name: The golden sand creates an exotic atmosphere, where the crystal-clear waters make the place even more stunning.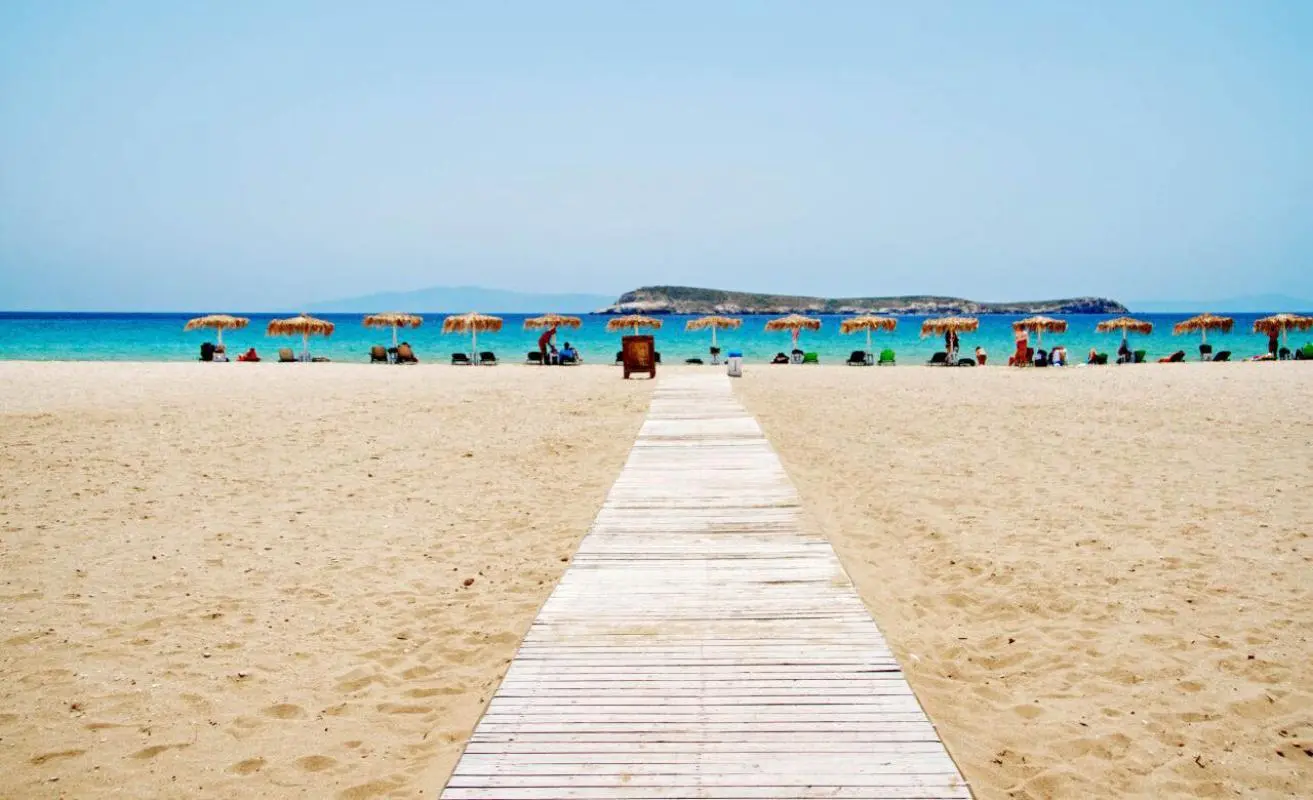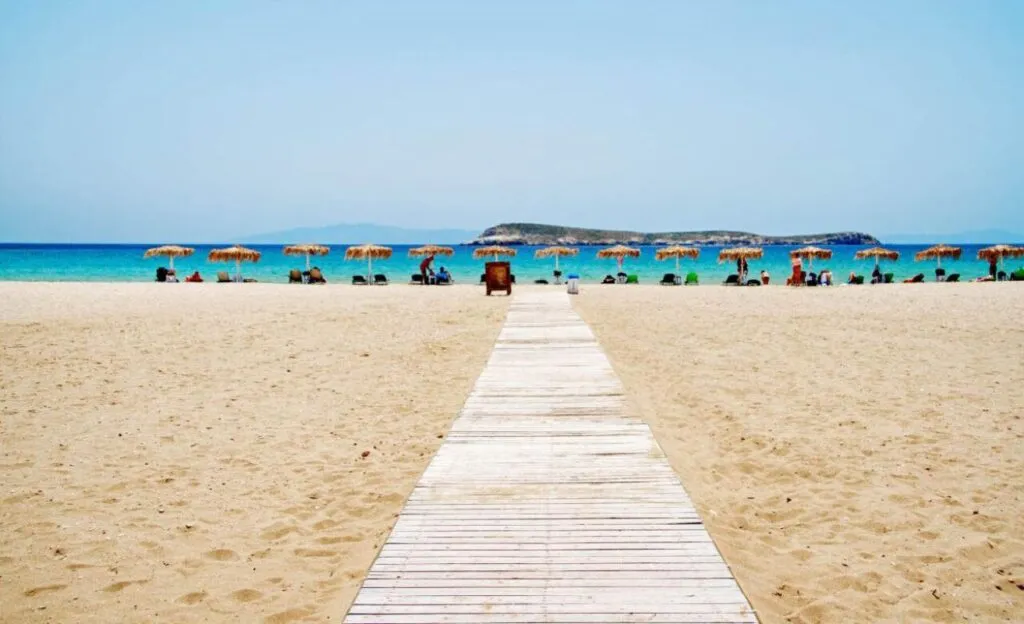 In a close distance, it is located the New Golden Beach, with these two beaches being the best-known locations in Greece for windsurfing. Read further everything you need to know about Golden Beach in Paros and your opportunity for beach-hopping around the area.
Where is located Golden Beach in Paros?
Golden Beach is situated on the south-eastern side, 20 km from Parikia. It is a long, sandy and well-organized beach, overlooking the island of Naxos, which is located close by.
How to get to Paros Golden Beach?
You can go to Golden Beach by bus or boat from Parikia. There are several itineraries during the day, but keep in mind that the beach is well-known and each bus or boat gets very crowded especially during the peak season.
If you want to visit the beach conveniently and at your own pace, you can rent a car and enjoy great flexibility for the ultimate beach-hopping, swimming at many beaches and discovering the beauty of the Aegean Sea. Remember that Paros has so many astonishing beaches that it is impossible to discover all of its beaches if you stay all day long in only one beach.
Near Golden Beach, you can also visit New Golden Beach, Dryos, Piso Livadi and Logaras.
What to do: Activities and facilities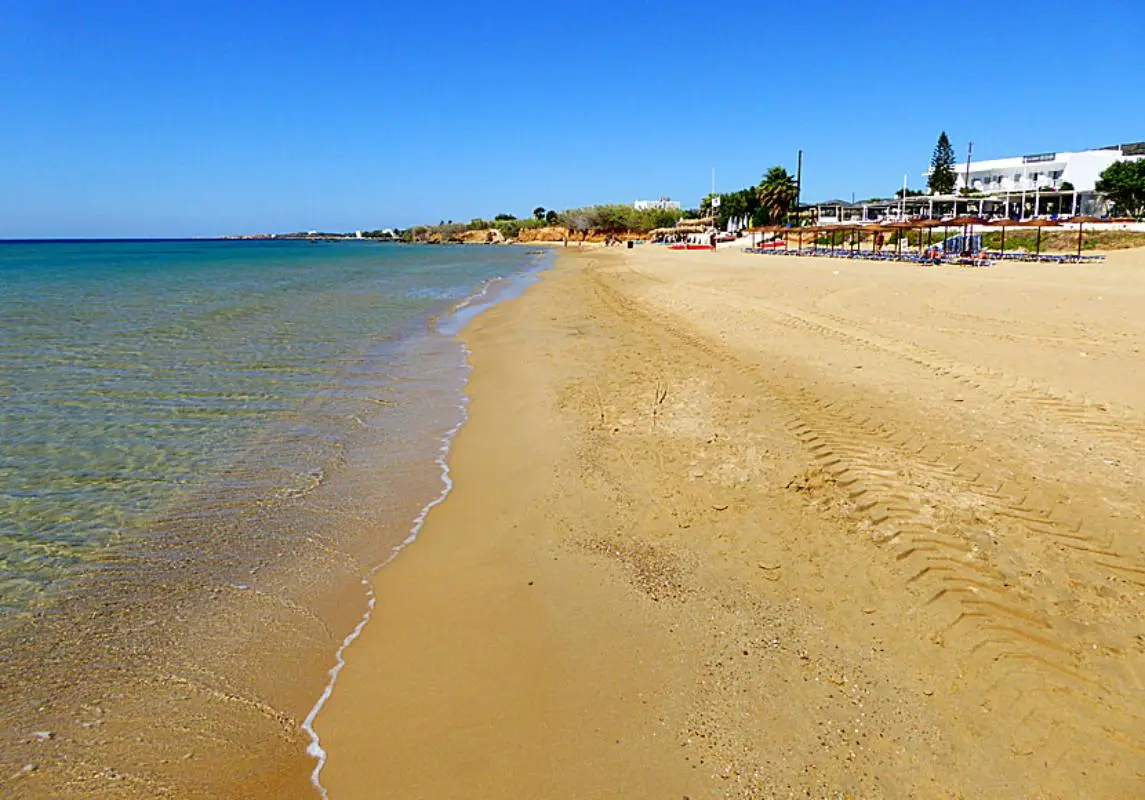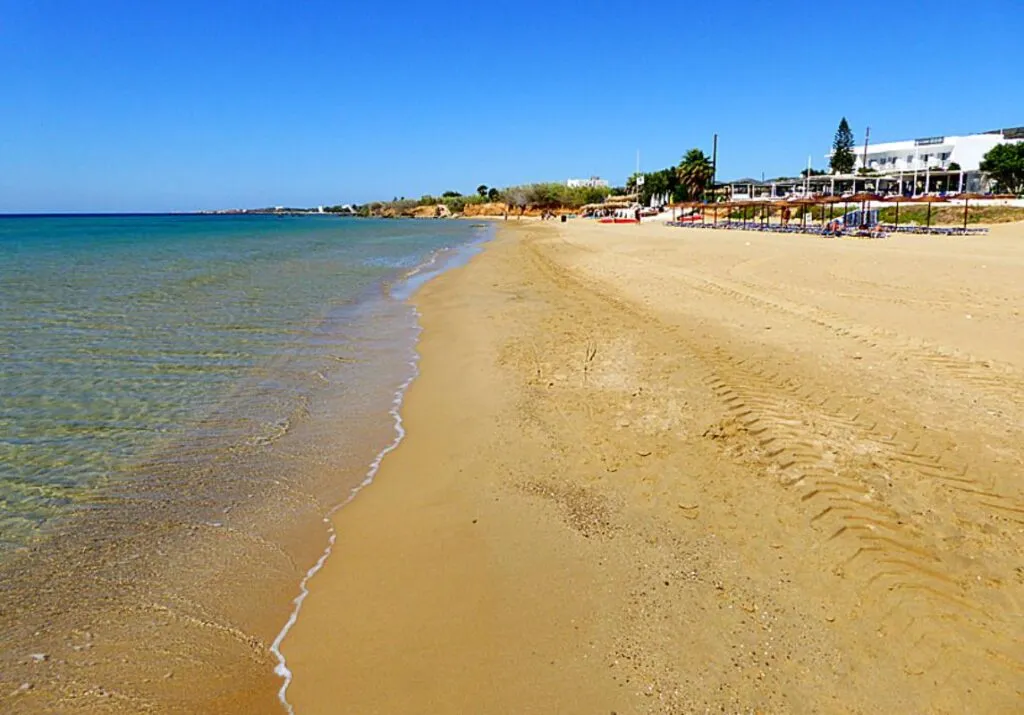 Golden Beach is a well-organised beach with every facility you may need. You can find there umbrellas and sunbeds as well as restaurants and cafes.
The beach is excellent for sunbathing and swimming, as it is renowned for its crystal-clear waters that give you the ultimate refreshing experience.
Plus, there are many water-sports centres, so you can have fun with windsurfing, kitesurfing or snorkelling. Every August, at Golden Beach is organized the Windsurfing World Cup, which attracts athletes from all over the world. 
Accommodation and restaurants
The surrounding area of Golden beach is full of many accommodation options, such as hotels, studios, villas and rooms to let. Golden Beach is a great place to stay, enjoying vacation on the beachfront, away from the crowds of Parikia.
The area also offers a plethora of cafes, taverns and restaurants with Greek and international cuisine. Plus, you can enjoy the nightlife in the bars surrounding the beach.
Want to easily and conveniently visit Golden Beach in Paros? Call  Paros Rentals and rent a car!