Are you searching for a less-crowded beach in Paros? Do you want to relax away from the mass tourism, enjoying the serenity of the Aegean Sea? Then, Glyfades Beach is the place to be. Even during July and August, the peak season in Paros, Glyfades Beach is quiet, but not secluded, so you can discover its beauty in a calm way.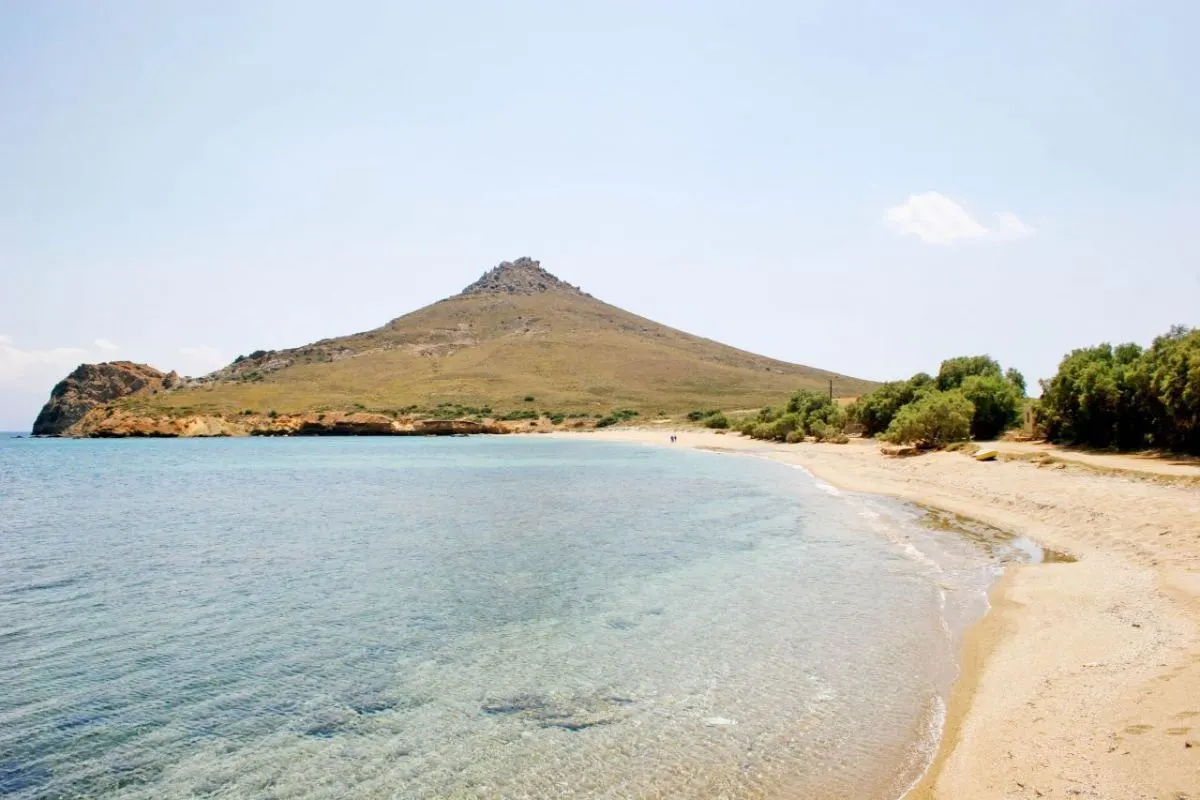 Read here everything you need to know about this hidden gem on the island of Paros.
Where is located Glyfades Beach?
Glyfades Beach is located on the eastern side of the island, 8 km away from Naoussa. The beach is a unique combination of sand and pebbles and offers you a great view of Naxos Island. The route to go there is isolated, as you can see only some houses of residents. Therefore, it is a perfect opportunity to discover the untouched area of Paros, in a beautiful road trip.
How to get to Glyfades Beach in Paros?

Although Glyfades Beach is not far away from Naoussa, there is no bus to get there. So, if you want to visit this bay, the easiest way is to rent a car or even better an ATV. 
What to do: Activities and facilities
As Glyfades Beach is unorganized, you can't do activities like water sports. You can relax, sunbath, swim or fish. The bay attracts many windsurfers and kitesurfers, as it is very windy, but you can't find water sports facilities or schools.
Remember that the beach is unprotected, without umbrellas and sunbeds. We suggest that you take a bottle of water and something to eat, because there are no facilities, like cafes or restaurants. An umbrella is also a useful thing to take with you, but if the weather is windy, it is better to avoid it. 
A great solution is to visit the beach in the morning or late afternoon to enjoy its tranquil atmosphere without the danger of a sunstroke! However, be sure that the weather is not very windy, when you want to visit it, as it is exposed to northern winds and can be very wavy. 
Beach hopping
By your own car, you can visit more than one beaches in Paros. Glyfades Beach is situated in a close distance to Tsoukalia Beach, one of the most wonderful and famous beaches in Paros. So, why not visit both beaches and enjoy the crystal clear waters of the amazing eastern side of Paros, overlooking Naxos?
Want to easily and conveniently discover Glyfades Beach in Paros? Rent a car with Paros Rentals!