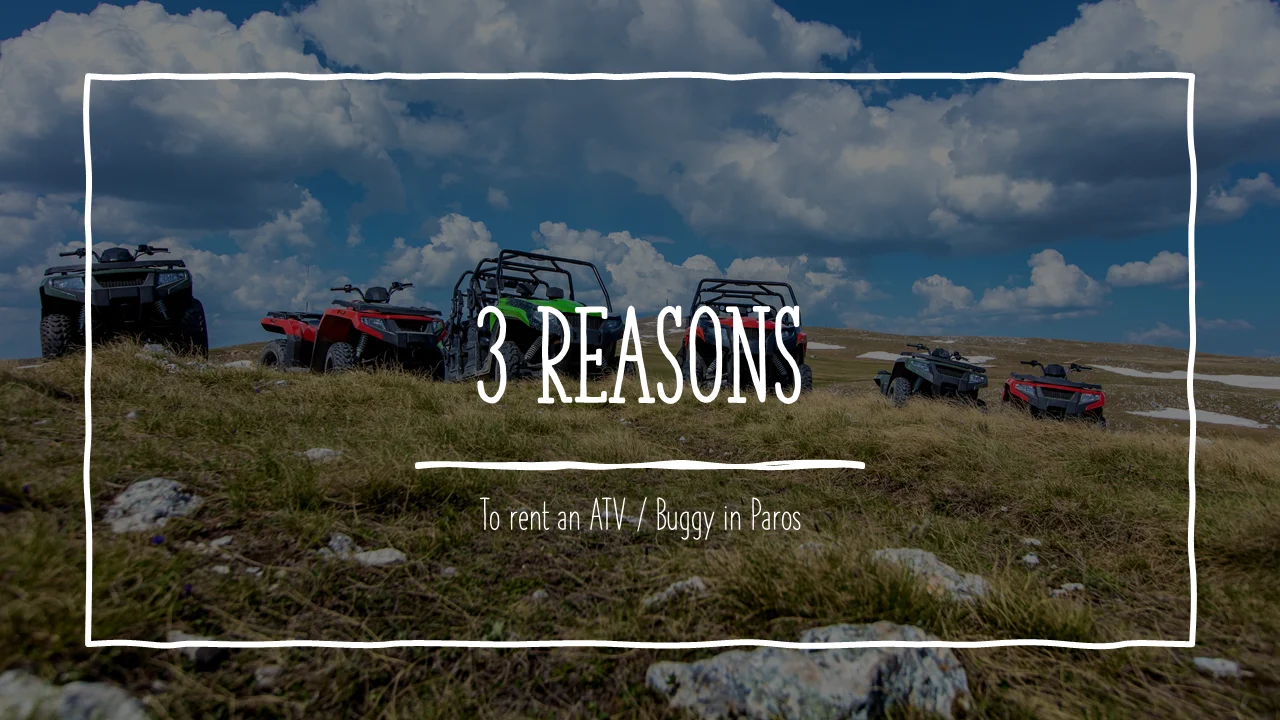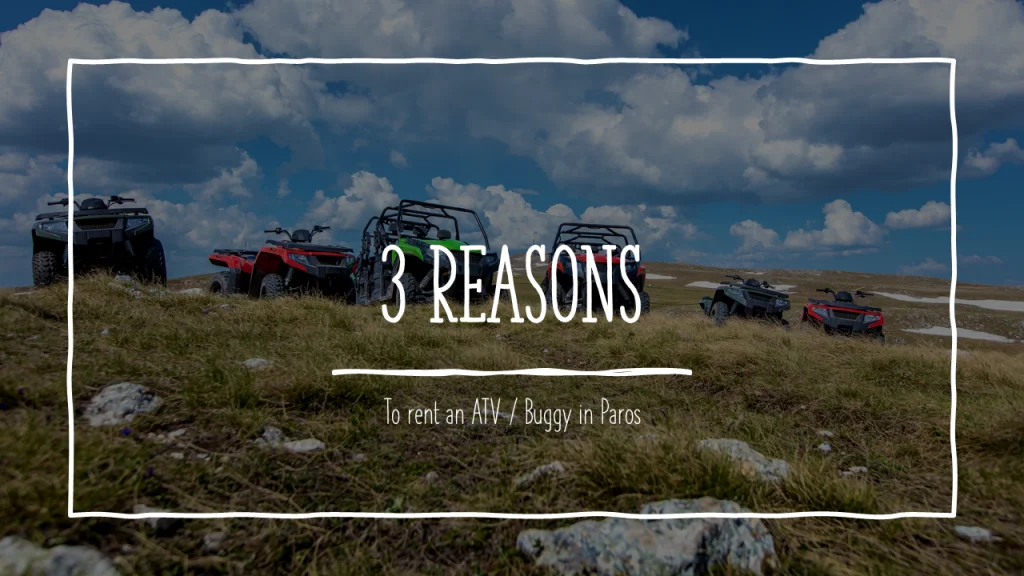 ---
3 REASONS TO RENT AN ATV / QUAD IN PAROS
---
RENT AN ATV / QUAD IN PAROS
You have already booked your flight and your hotel in Paros.
The next step to completely organize your journey to one of the most magnificent places all over the world is to rent your ideal vehicle like ATV / QUAD in Paros. For sure, you have many choices, and you could select one of the 5 cars we recommended to you in our previous article:
5 EXCEPTIONAL CARS TO RENT IN PAROS
But what if you need to add a pinch of adventure to your trip and live the unique experience to enjoy the fresh and salty air of the Aegean sea just from a vehicle that would let you feel it?
Yes, that's true. ATV rental in Paros will be your choice. And you won't regret it.
PAROS ATV RENTAL – PAROS BUGGY RENTAL
Why rent an ATV in Paros?
Paros ATV rental is a superb way to turn your adrenaline to high levels and enjoy your trip as closest to the nature of Paros as you can. These magnificent four wheels vehicles offer a unique view of the Paros island during your transportation alongside the beaches, the small villages, the countryside and the off-road sightseeing and are a spectacular means of converting your vacation in Paros to a really unique and memorable experience.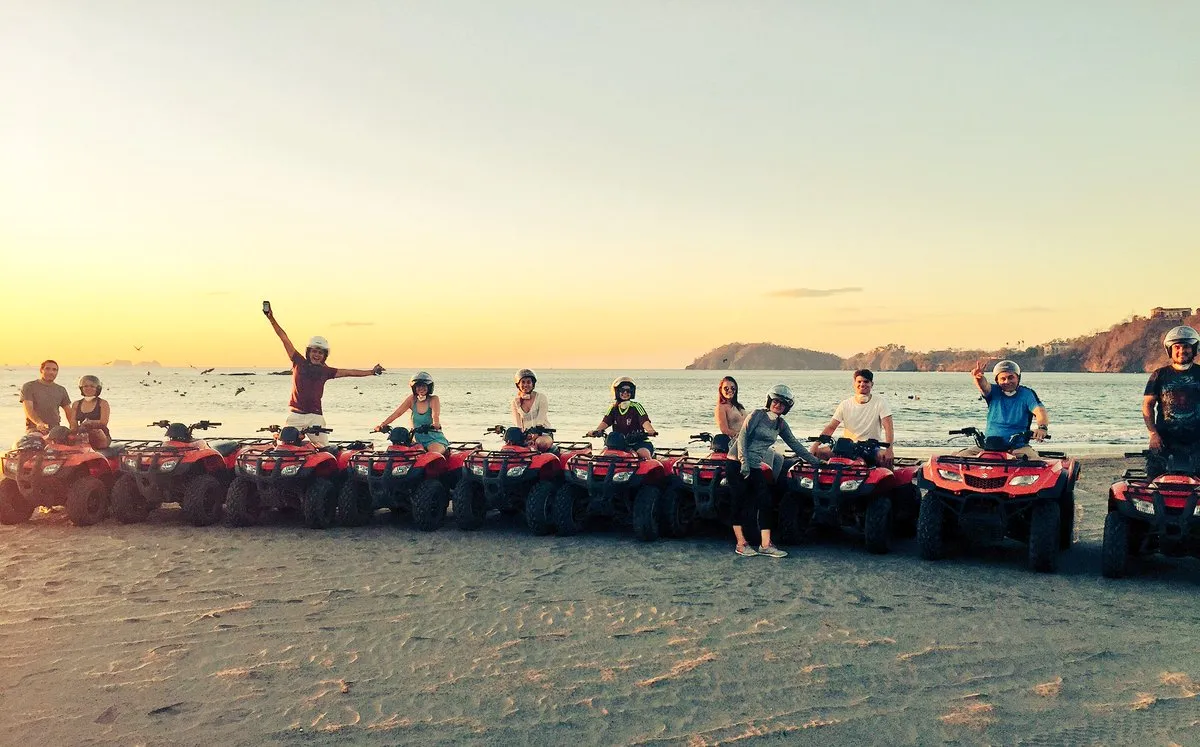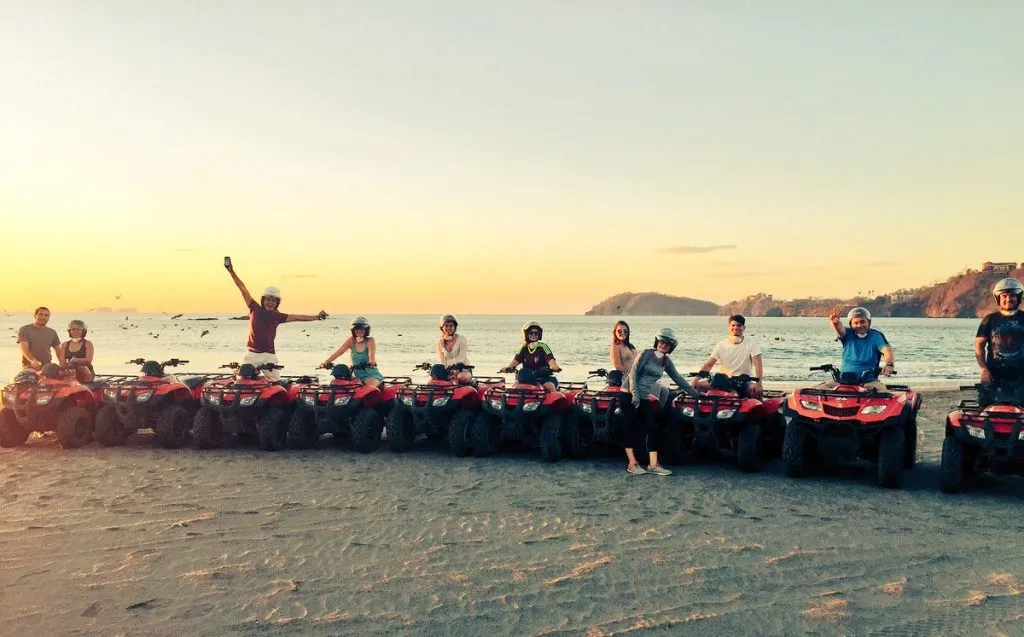 ---
1. ATV RENTAL WILL GET YOUR ADRENALINE PUMPING
Walking or driving in Paros is an absolute experience for any visitor who comes to the island but it's an atv/quad rental that will set things apart and differentiate your residence here.
We all need some moments of adventure and higher adrenaline in our lives and what would be better than live it during your stay in a wonderful place like Paros island. The breathtaking experience of traveling through Paros from an ATV / Quad seat and explore new fascinating landscapes by directly interacting with them is a situation that you should not turn your back to it!
You can realize that an ATV can enhance your vacation in Paros in a very positive way. You will not think that you will just have to get into your vehicle and reach to a point of interest (e.g. Naoussa).
You will now think that you will enjoy all your travel until the point of interest, as you will be in full interaction with the external landscape and will have the best view you could. The excitement of seeing landscapes from an ATV will may be the best experience you could live in the island and a reason to narrate amazing stories when being back to your country.
Take also into account that studies show that a little surge of adrenaline can help you breathe better, focus your vision and improve your concentration, rent an ATV / Quad in Paros may be also a nice boost to your physical health too!
2. RENTING AN ATV / QUAD BIKE IS THE RIGHT CHOICE IF YOU ARE IN AN ISLAND
It's true that the islands combine a cliffy landscape with a view to sea and sandy beaches. Along a distance of just a few km, the terrain can go from dry and sandy to rocky and mountainous, and if you want to see it from the best view, an ATV quad is your key partner. It offers unobstructed views of the landscape, allowing the rider to really get the most of his experience.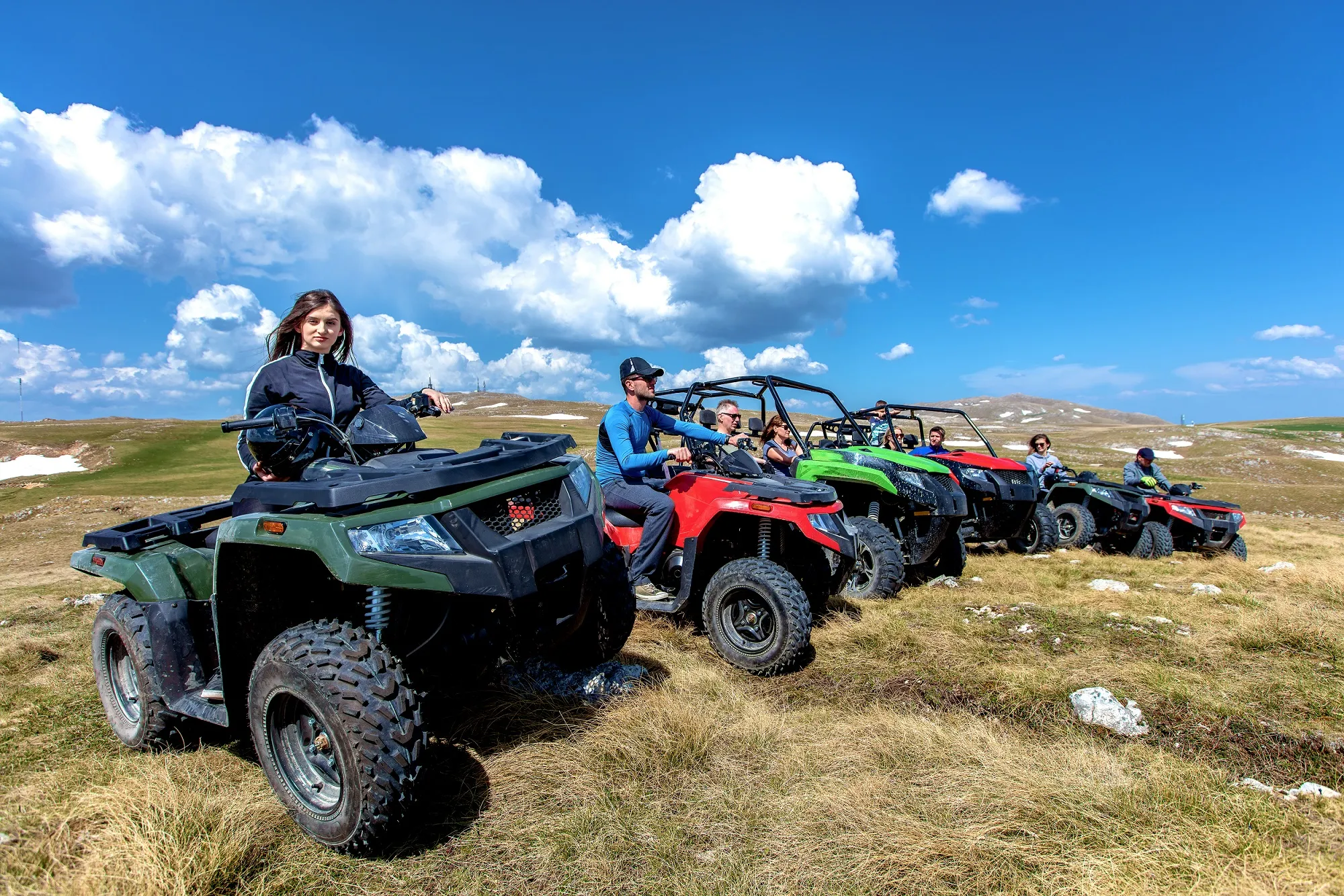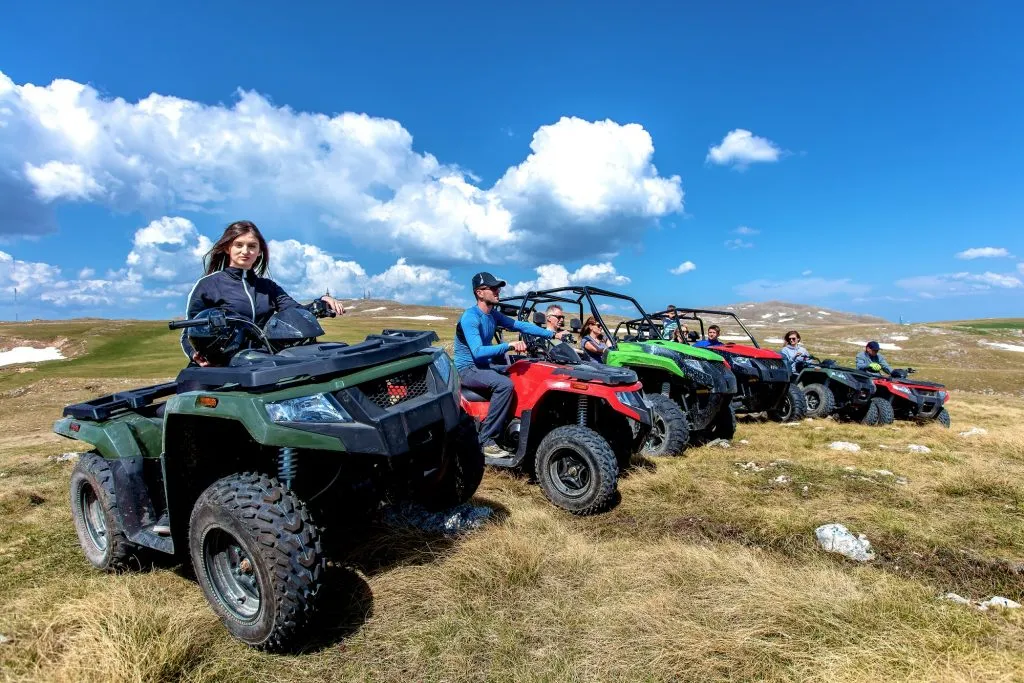 3. PAROS WEATHER IS PERFECT FOR ATV OR BUGGY RENTAL
The Aegean sea islands are hot destinations for summer for people all over the world. Especially here in Paros, there are so many people every year who bear the experience to live some days on the island and invest time of their summer holidays on it.
So, why not get the maximum of their residence in Paros?
The maximum could be the best hotel to live, the best landscapes to visit, the best restaurant to eat and the best coffee stores to drink a coffee. But that's not enough.
You have to ask for the best vehicle to rent in order to make your trip a unique magnificent experience.
When you are travelling in Greece in the heart of the hot summer, the wind will keep you perfectly cool inside your ATV. You do not need air condition. An ATV / Quad or Utv – Buggy will provide you with the fresh and nighty cool air of Paros island so as to enjoy moving from one place to another and within a little days move around all the Paros points of interest!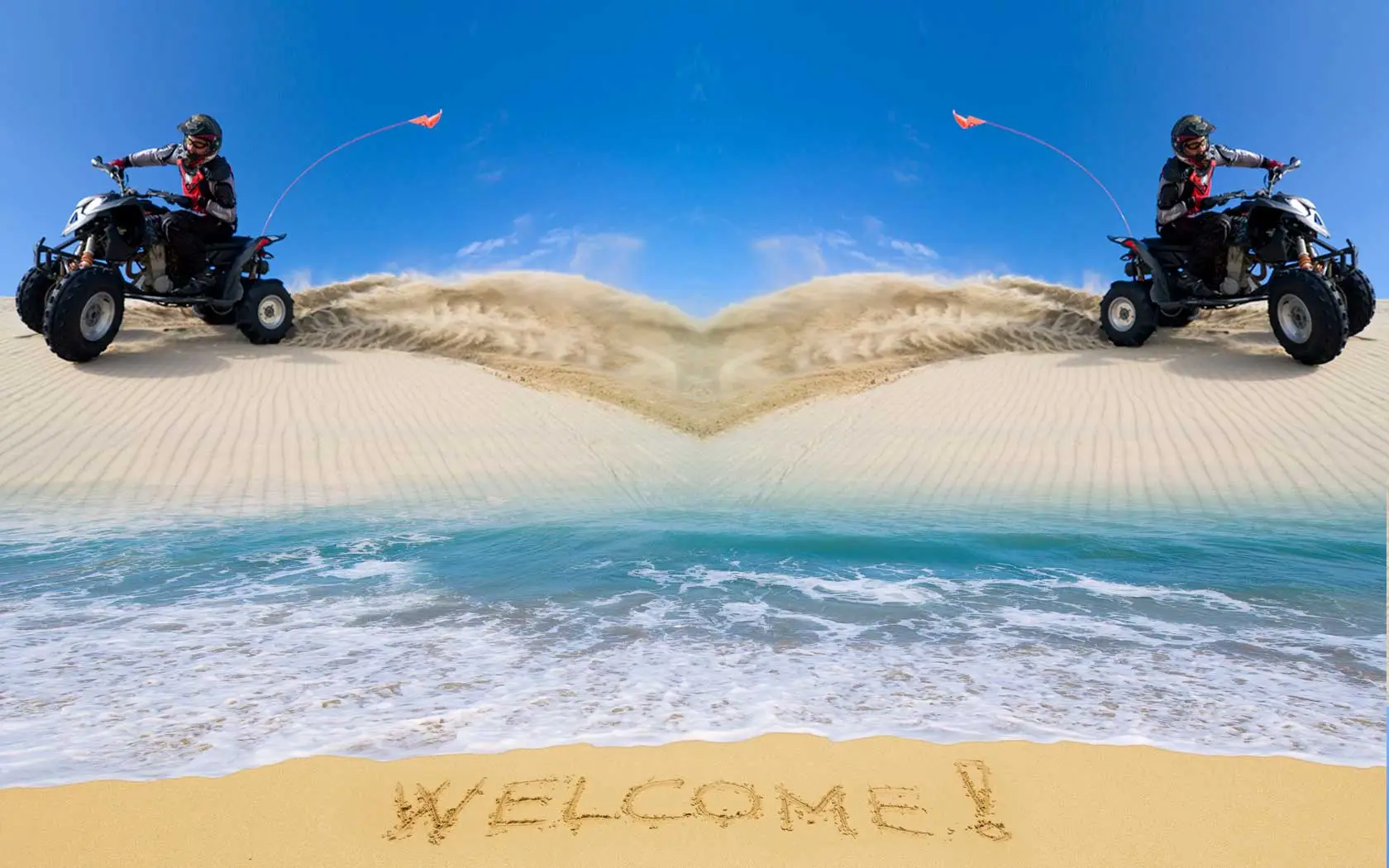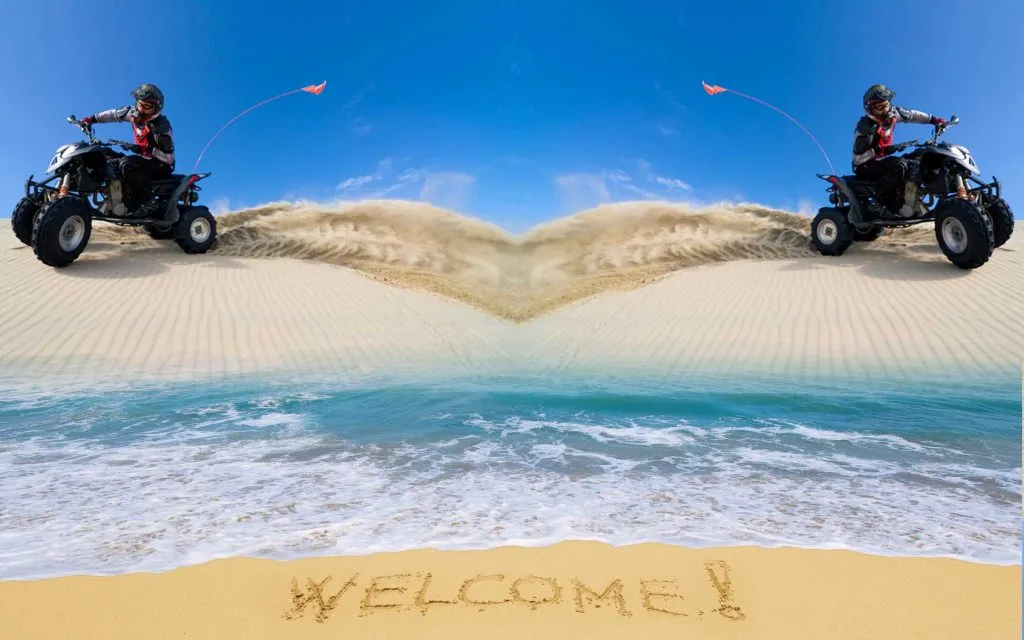 ---
ATV / QUAD RENTAL IN PAROS – CHOOSE YOUR ATV OR Utv – Buggy
How will you choose to rent an ATV / QUAD-in Paros for your trip to the island?
Chaniotis Paros Rentals offers you 3 wonderful vehicles to rent now for your next journey to our island. You can select now from our website menu: Rent a Car –> rent an ATV / Quad in Paros as the picture shows below: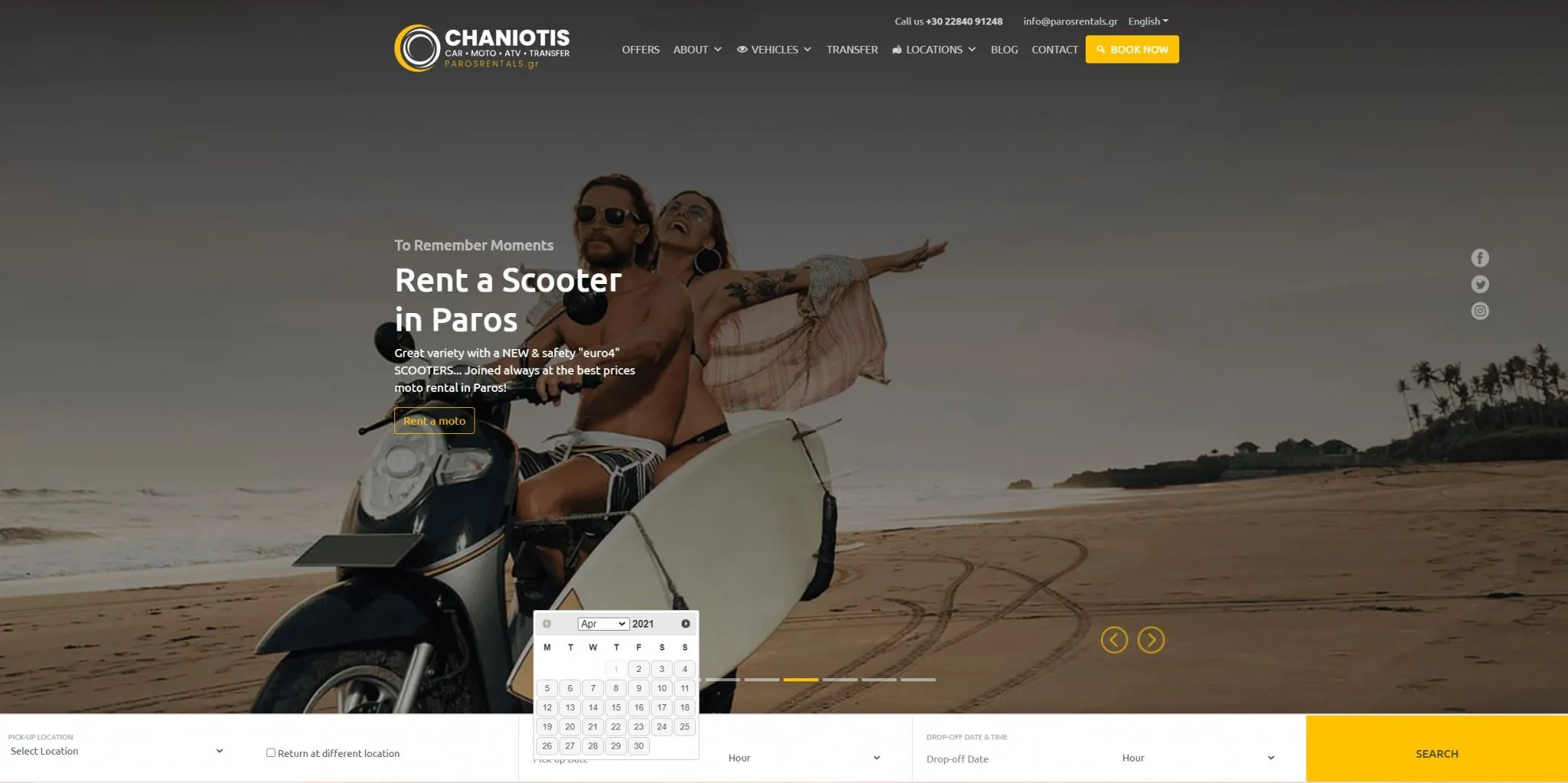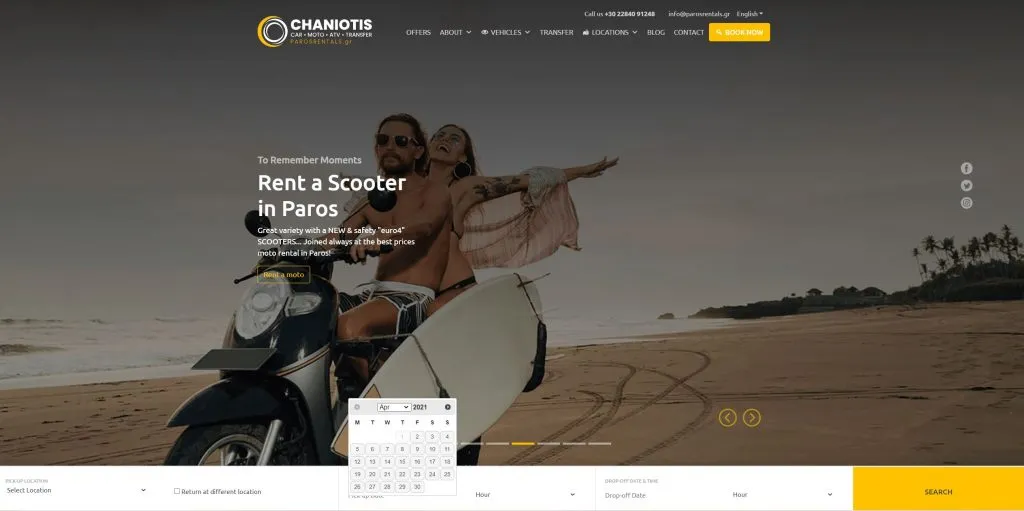 You can then click on rent an ATV / Quad in Paros and choose one from the 3 below ATV – QUAD – Buggy to rent: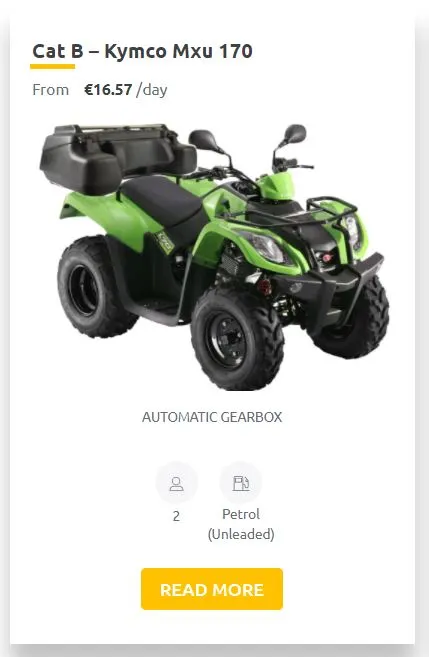 ---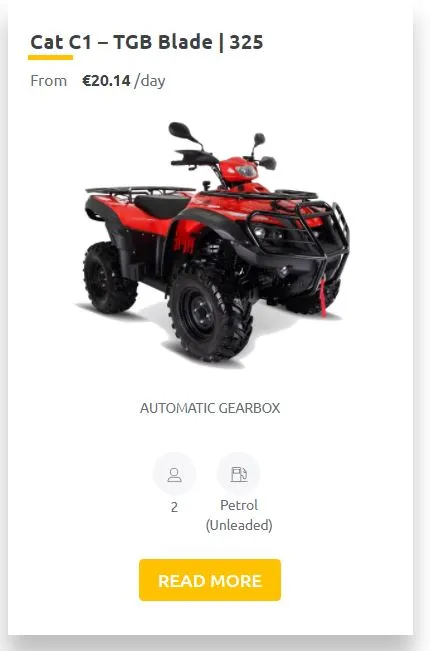 ---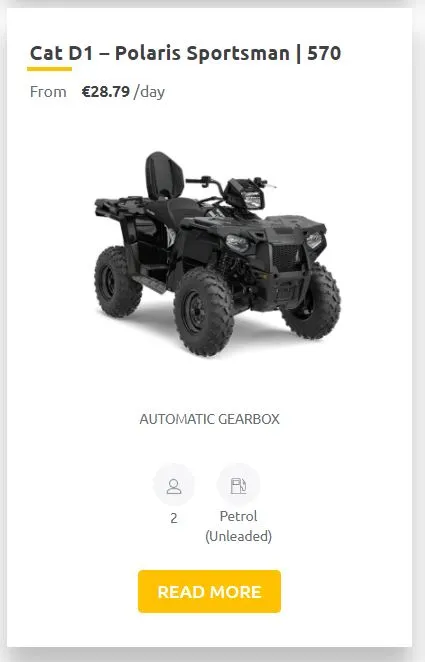 Utv – Buggy Polaris RZR 570cc
What about Paros Utv – Buggy rental? We offer you an exceptional vehicle to enjoy the weather here in Paros!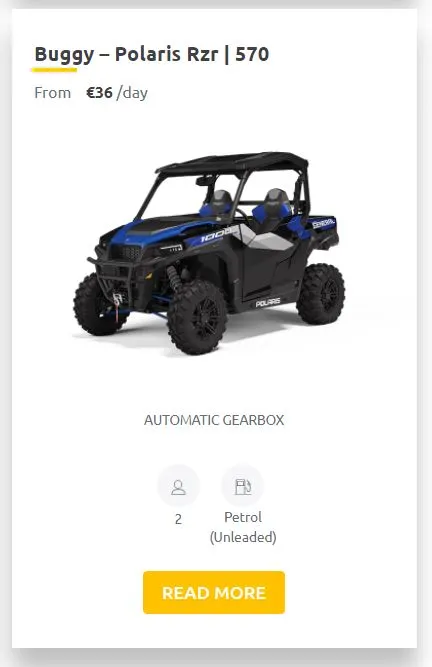 The process is simple. Just select the ATV you are going to rent, choose the locations, the pick up and drop off date and submit your personal data (name, e-mail etc) so as to make immediately your reservation!